Discussion Starter
·
#1
·
I am new here and figured to make a post to say hi. I took some bad photos the other day of my Siamese mauser, I thought you would like it,
I've had this since I was about 12, dad built it for me for a European boar hunt. The thing is amazingly accurate, I can do clover leafs at 100yards. It seems to not care the load or bullet weight,
It's a 22 inch barrel with Remington sights, one day I'd like to rust blue it, I have to make a boiling tank. and maybe do more of a safari stock or in a German style.
It's throated pretty deep I have shot 510gr solids and know the lee 500 pointed bullet fit in the chamber.
I have shot some very hot loads reaching 458wm power. But only need mild marlin loads. I liKe using imr 3031.
Feel free to ask any questions.
Thanks .troy.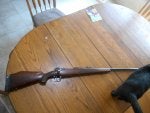 View attachment 105772