Discussion Starter
·
#1
·
Replaced the stocks on my Kalashniklone, and thought about sharing the pictures with you:
Here's the original product, "Ugly Betty", as it came out of the box. It's an Arsenal SLR-101S, composite stocks in 7.62x39.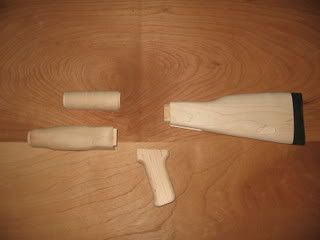 Here's the unfinished maple stocks, US made by Ironwood designs in California.
http://www.ironwooddesigns.com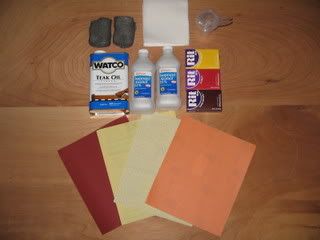 These are some of the materials I worked with in the project.
Following Ironwood's instructions, made initial adjustments to the unfinished stocks. The butt end required drilling. The lower foregrip required a little cutting to make it fit, and the upper foregrip required a little shim.
After fitting, came sanding. Used 180-220-320-400 grit, followed by 0000 steel wool. Polishing the wood with steel wool made it look very nice.
Now, I tried dyeing the wood using powdered Rit dye and ran into trouble. Found out the hard way that highly polished maple does not take stains or dyes very well. It had a splotchy appearance! Nearly ruined the whole thing. Reverted to 150 grit and started again, bleaching with Clorox between sandings.
After the final polish, rubbed the wood using Watco's Teak Oil. Applied fifteen coats, with at least a day between coatings. I'm pleased with the final results.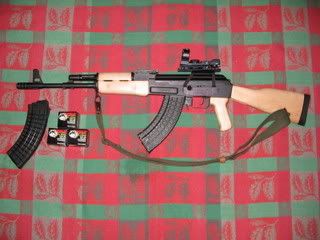 I added Bulgarian waffle magazines and side scope mount from K-Var (
http://www.k-var.com
) along with a red dot sight from Panorama. Here are closeups.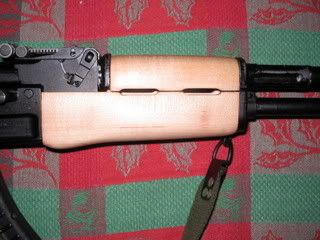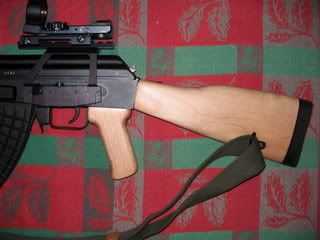 I must say that the people at Ironwood and K-Var were most helpful. They answer the phone and reply to your e-mails. Their service is tops. I truly recommend business with them.