I recently acquired a bolt action rifle which has been passed down to me from a relative. It is a bit rough, but i think it is pretty neat that my grandfather (who i never had a chance to meet) and his father used to own it and now I do and really would love to gain some information on it. The scope mounts appear properly centered, but are aftermarket.
I am somewhat knowledgeable when it comes to firearms; however, I am only 24 and more of a semi modern handgun guy and have limited knowledge on slightly older rifles. I am having trouble finding any information online regarding this rifle I acquired.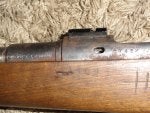 I was told it may be Japanese, but have not been able to find any asian marking on it. Only several digits that look s (serial number maybe?) shown on the barrel and on the underside infront of the trigger guard. Any searches online for that return only information on Arisaka rifles which this does not appear to be.
Any information on this gun or even being pointed in the right direction would be much appreciated!!!:thumbsup: