https://www.youtube.com/watch?v=EX_3GY50qhg&feature=youtu.be
Antonia Okafor has an incredible background advocating for self-defense on college campuses and beyond. She's the founder of emPOWERed 2A, a college organization dedicated to equipping students in self-defense and training them how to advocate for the right to keep and bear arms. And she's a steadfast, no compromise believer in the right to keep and bear arms. She'll be an excellent spokesperson for the Second Amendment and GOA, and she'll take emPOWERed 2A to new heights!

Women, people of color, young people and the college community moving toward our side. So much for anti-gun CNN and the Democratic Left who champion ethnic diversity. Good for you, young lady! I welcome more Asians, Jews, Catholics, Italians, LBGT, New Yorkers of all ethnic groups and Hispanics to move toward our side as well. Country boys and heterosexual Protestant old white men should not be the only champions of gun rights.
GOA is Fighting for Your 2A-protected Rights!
You may have already seen the news. But President Trump has nominated someone to lead the ATF who is on record supporting gun control.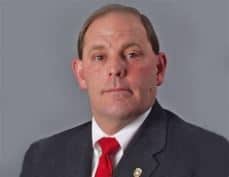 His name is Chuck Canterbury, and he is the president of the anti-gun Fraternal Order of Police. Sadly, Canterbury has a long track record that should concern gun owners:
He's testified before Congress to support anti-gunners like Supreme Court Justice Sonia Sotomayor and Attorney General Eric Holder.
Under his watch, the FOP backed Congressional measures to expand the unconstitutional and failing NICS system – which is the same system where 95% of the initial denials are false positives.
Please email your U.S. Senators and urge them to reject the Canterbury nomination (above).
GOA will be sending follow-up alerts when the Senate comes back in session. So stay tuned for additional updates.
UPDATE: On July 31, 2019, the U.S. Senate conducted a hearing on Chuck Canterbury. While we were glad to see that Canterbury walked back many of his previously anti-gun positions, GOA still has concerns. Furthermore, his treatment of the right to keep and bear arms as a privilege is, and will continue to be, an area of concern for gun owners. Go here for more detailed information.




If I were American president:
My top priorities, 1, 2 and 3, would be as follows:

1. abolish Gun Control Act of 1968 signed in by Johnson
2. disband the ATF
3. abolish National Firearms Act of 1934 under Roosevelt