I think they offer it in a short frame too. It may fit your hand even better.
I just bought the G30SF.
I used to have the G30, which turned out to be ergonomically displeasing.
The new short frame eliminates this.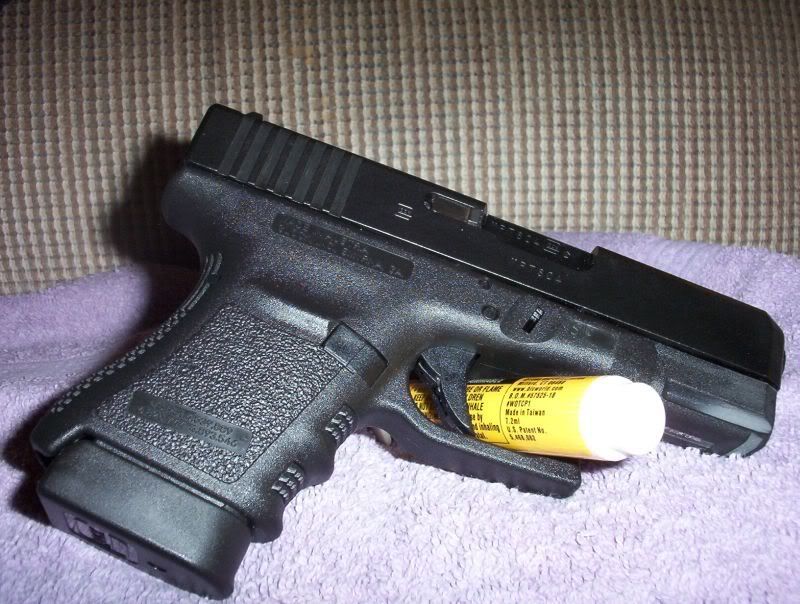 Now, as with any and all of my Glocks, the first thing that gets changed is the stock sights.
The first trip to the range was with the gun completely stock.
There are two things I do not like about Glocks: the stock sights and the 5.5 pound trigger.
That first trip, after about 30 rounds, my finger was so tired that I could hardly continue shooting. My accuracy was also for chit!!!
Fortunately, both problems are easily solved.
I had Glockmeister change out the sights for Meprolite night sights and I had them install the Complete Stock Competition Trigger Package.
Glockmeister has put together a package that will allow the Glock enthusiast to add performance to his/her gun with a minimum of effort. With the kit, the shooter will be able to switch between their competition trigger set-up and their stock set-up with the removal of a couple of pins. The kit includes the stock competition trigger kit mounted in a new trigger mechanism housing (for the specific caliber) with a hand selected trigger with trigger bar assembly - completing the drop-in package. This is a complete package, so there is no juggling of small parts necessary. A major benefit to this package is the fact that you retain the carry parts for replacement if you sell the gun or periodically use the gun for carry. Additionally, the gun does not have to go out to an Armorer for an extended period of time for modification. The unit is tested for perfection - it is one of our finest pieces of work.
http://glockmeister.com/product_info.php?cPath=14_68&products_id=203
Back to the range!!!
Ahhhh, that's better!!
It's now a sweet shooting tack driver!!