Discussion Starter
·
#1
·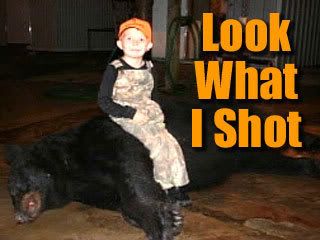 Arkansas Boy, 5, Kills 445-Pound Black Bear
While most kindergartners are thrilled by an action-packed afternoon of finger-painting and clay sculpture, an Arkansas 5-year-old is shooting for something a little more dangerous.
Tre Merrit was in a stand with his grandfather when a black bear came from a thicket at the side of the road, Arkansas news station KATV reported. From about 50 yards away, Tre shot the bear with his youth rifle.
The boy's grandfather, Mike Merrit, told KATV that Tre's 10th great-grandfather was Davy Crocket, a legendary outdoorsman who killed a bear at just 3 years old, according to folklore.
Mike Merrit taught his grandson how to shoot when the boy was 2 years old and bragged to KATV that he already had killed three deer.
The family plans to get a life-sized mount of the bear but is not sure where they will put it, KATV reported.
:-B-:
http://www.katv.com/news/stories/1207/479365.html