Discussion Starter
•
#1
•
I'm pretty sure most on NGF have a favorite kind or type of firearm they collect. It has occured to me recently that what I collect is dependant upon the people I am with when the subject of collecting comes up. If I am in the company of Cowboy Action folks I find myself saying I collect Single Action handguns. With others I claim to collect military weapons. At the indoor range I tell folks I collect .22's. When in the cafe, talking with hunters, I claim to collect big bore handguns.
After realizing that all of these claims are correct, it dawns on me that either I have a very eclectic collection or that I simply collect "guns of interest"!
Anyway, one of the largest groups of guns in my pile, is the .22 LR. I can't resist either handguns or long guns. If it is old, weird, different, or special for any reason, I buy it. Some of these guns are looked down upon by many but I welcome them with open arms.
One of the many benefits of collecting in this manner is that when a new candidate for the pile pops up, I have to research it and I learn something new.
Anyway, the subject of todays post is a .22 rifle. It is made by Daisy, the folks who make the BB guns. It is a Daisy Legacy Model 2202 Bolt Action .22 LR. Daisy made .22 caliber rifles from 1990 through the first half of 1992.
This is not the first .22 caliber firearm Daisy made but it is the first to use a .22 LR cartridge. In 1968 they produced the model VL0001 which used a .22 caliber caseless round. The VL was only produced for approximately 8 months.
There were 6 different variations of the cartridge gun: single shot, bolt action, and semi automatic with each one made in polymer or hardwood stock. The models with hardwood stocks are the hardest to find with the single shot being the most rare.
I found my first Legacy on a CCR sale site. It is a model 2203 Semi Automatic with a hardwood stock. It is being shipped to me as we speak. Yesterday, in a small gunshop in Central Florida that I had never been in before, I found my second rifle. It is a Legacy Model 2202 Bolt Action with a polymer stock.
While the value of these little guns is not high, they have been "discovered" and the value for examples of the rarest models in good shape have gone up to the $250 to $300 range. I trust the value will continue to go up as the guns become harder to find.
The Legacy that I bought yesterday has some interesting features. First of all, it has a polymer stock. This allowed Daisy to make the first true "kid's" gun that would grow with a child as he/she grew. By pushing a button in the stock it allowed the butt of the stock to extend in half inch increments as the childs arms grew longer. It allowed a length of pull from 12 and 1/4 inches to 14 and 1/2 inches.
The barrel seems to be some type of alloy with a steel liner.
The gun is also modular in design. With a single push button behind the trigger guard, the entire enclosed trigger group comes out of the gun in one piece for cleaning or replacement. The barrel is removable by a knurled nut and the gun can be broken down into an 18 inch package. The pull on the trigger is just under 4 lbs (3 lbs 14 ounces).
The magazine for the bolt action models holds 10 rounds and is a circular magazine that is a duplicate of the Ruger magazine for the 10/22. I can't prove it yet, but I have seen it hinted, that the main reason the guns were only produced for a short time was a combination of lack of government permits and licenses to build firearms as well as patent problems with Ruger over the design of the magazine.
The semi auto models have a 7 shot, single stack magazine. Both types of magazines are extremely difficult to find.
My rifle also has the original period scope with the Daisy marked scope rings on it. The scope is a Simmons 3-7X20.
It was to cold for a formal visit to the range but a quick walk out behind the pole barn produced some groups of 1/2 to 3/4 of an inch at 25 yards and 1 and 5/8 of an inch at 50 yds. The gun shot well with no failures. I shot one box (50 rounds) of PMC Zappers.
So if your still reading, thanks for your interest. I am searching for the other models of this little gun. Ultimately I would like to have one of each of the 6 variations made by Daisy.
Here are a few pictures....
Don
.
.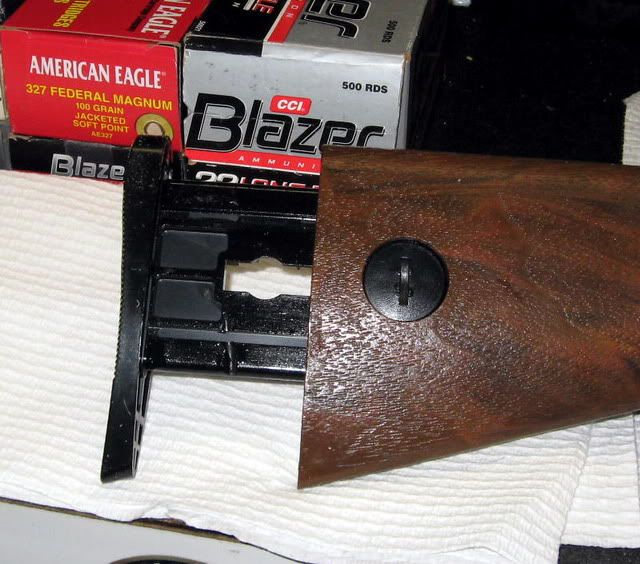 .